Create Your Own Christmas Video with Free Video Editor
Greet your loved ones Merry Christmas with your own unique Christmas video this year! Create Your Own Christmas Video with Free Video Editor.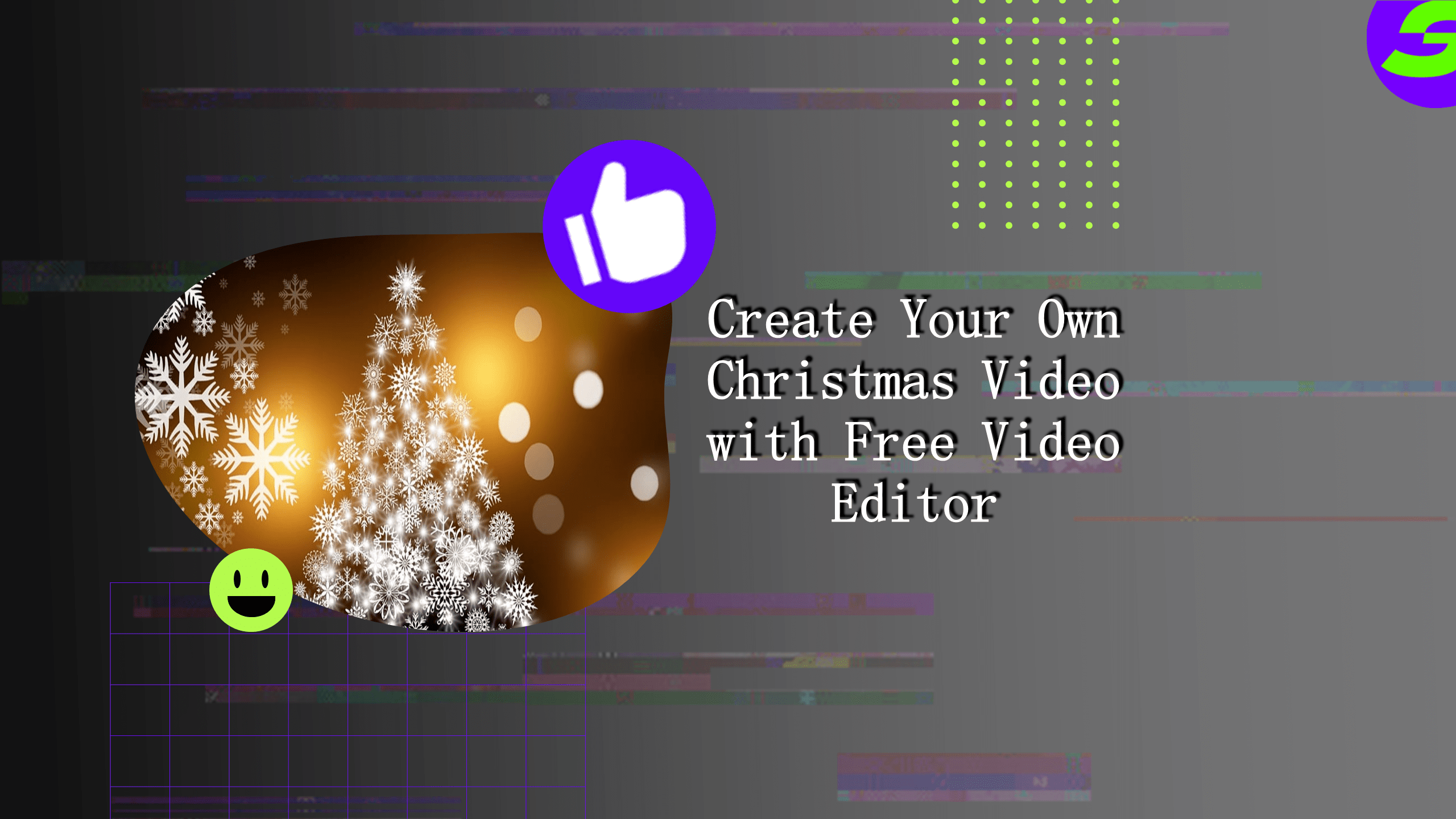 Greet your loved ones Merry Christmas with your own unique Christmas video this year!
Christmas is a Christian holiday commemorating Jesus' birth. It is a day that every person enjoys celebrating in full swing. However, Christmas is celebrated all around the world. Christmas is a time for good cheer, festive decorations, and spending time with family and friends.
Whether you celebrate a secular or religious Christmas, it is a time for joy, love, and peace. People decorate their homes and do things to get into the Christmas spirit to celebrate. Everyone takes time to enjoy Christmas traditions with their family and to give back to others.
We get more and more excited about Christmas every year. Of course, we treasure our families' long-standing holiday traditions. Still, this Christmas, we're introducing you to a new way to celebrate Christmas to add fun to your Christmas wishes. This customized gift as a Christmas video is one of the most incredible ideas anyone could have. It's a time-saving and unique idea to make your loved one feel special.
How to Create A Unique Christmas Video with Free Video Editor?
Are you looking for a fun and different way to spend Christmas this year? Look no further than ShotCut, a free video editor that can assist you in creating personalized Christmas videos for your loved ones.
ShotCut Free Video Editor for Android
ShotCut is a free and open-source video editor. ShotCut allows you to add captions or titles and even cut awkward silences. Create a video that perfectly captures the spirit of every occasion.
How Easy Is It To Use ShotCut?
Well, that's the beauty of ShotCut - it's straightforward to use. ShotCut is here to leash your creativity and save you money. It is a free video editor with lots of unique tools ad surprises. You don't need a professional video editor or a desktop computer; you only need an Android phone and the ShotCut app. It offers a free transition and effects resource library and adds video effects and filters. This video editor will make your Christmas video a fantastic gift for holiday feasts and gatherings.
Let's scroll down as we have a step-by-step guide to creating your Christmas greeting video with ShotCut.
- Add your photo or video.
Once you've downloaded the ShotCut video editor or your Android phone, select the photo and video files from your library. You can select more than 2 or 3 photos and videos at once. You can also select Christmas related clips from the Giphy or stock videos library in ShotCut.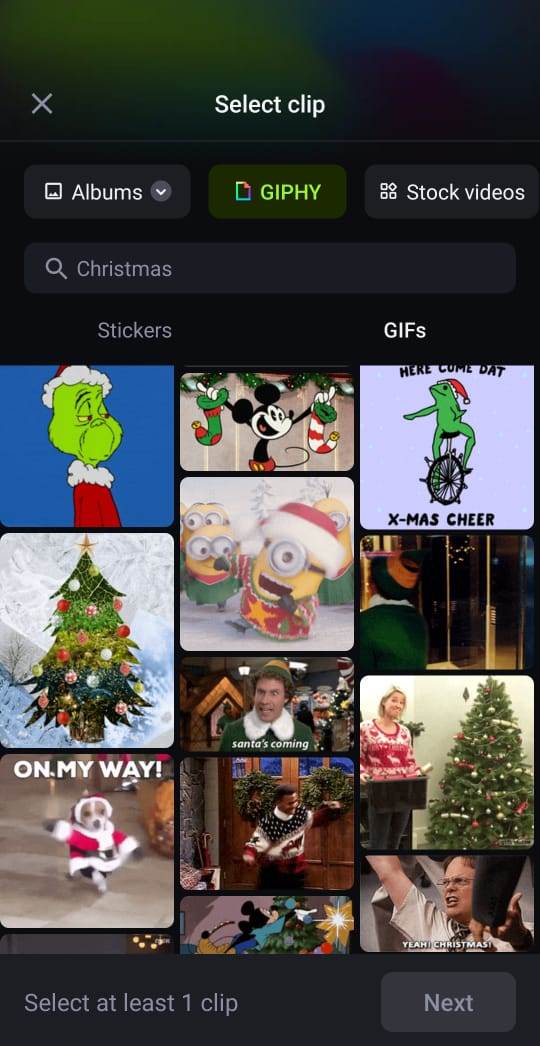 - Add Stickers and Animations.
Feel free to experiment with the ShotCut stickers to create a Christmas video that captures the season's spirit. Add a fun animations to your video if you want to add impact to your Christmas greeting video or photo. ShotCut makes it simple to achieve the desired effect.
You can play around with the stickers and animations ShotCut offers for different occasions. All the library is free to use, so you can select any things according to your desired video.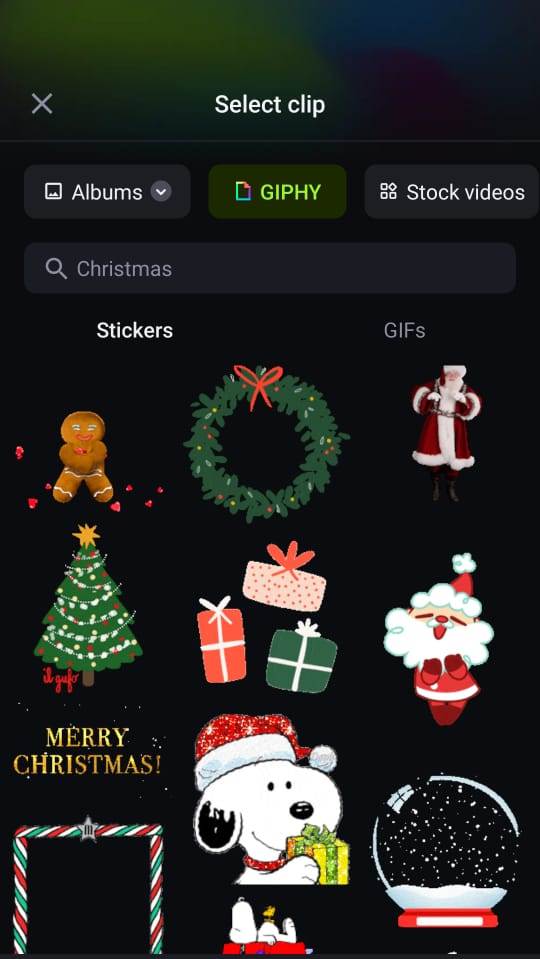 - Add Text to your Video:
After you've experimented with the effects, it's time to add text to your video. You can include a personalized message in a text or a quote of whatever you want. ShotCut has a unique font design and text effects such as bold, shadow, italic, and many more. It also has a vast library of more than 50+ fonts designed with different styles. You can select any of them according to your taste, as all the fonts are free to use.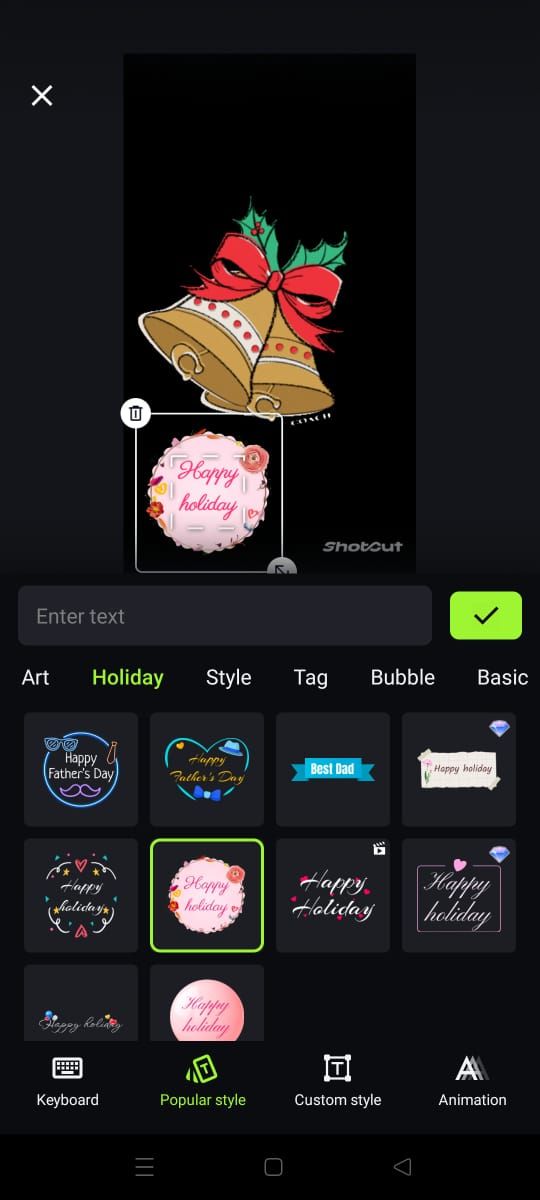 - Add Effects:
ShotCut free video editor for Android includes a resource library of free effects and filters to help you create stunning videos. The ShotCut video editor includes special Christmas effects. You can easily add the Christmas tree, candy, and star effects. It would be best if you looked for the video effect you want. It will help you create a perfect Christmas video.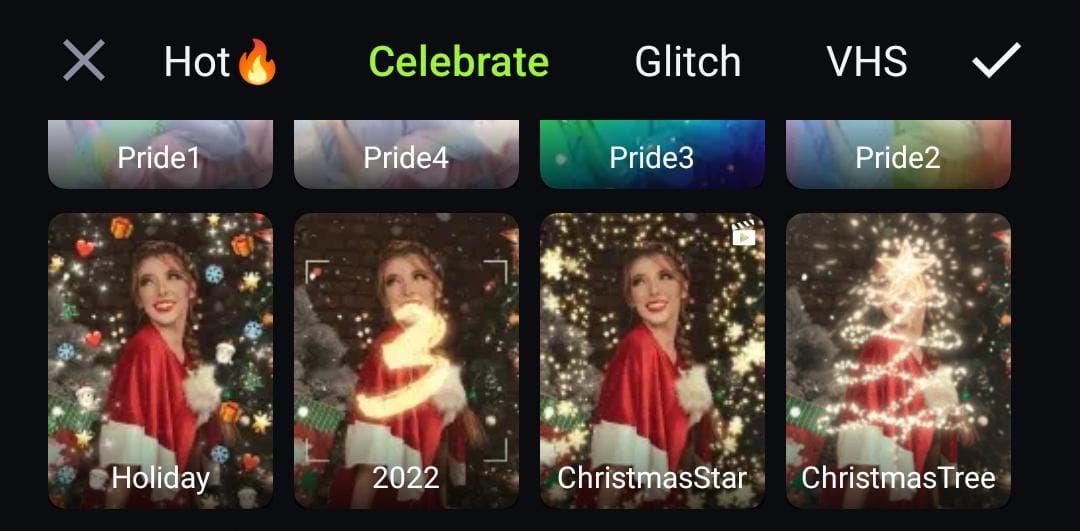 -  Add Music
Last but not least, ShotCut has an extensive music library. You can use the free stock music library in ShotCut video editor for Android to add free music to video content. Any music from the ShotCut library can be added to your video. You can also sing a song using the ShotCut voice recorder. It means you can add your songs to the Christmas video directly.
ShotCut also allows you to extract a video from one video and add it to another video. It will help you add Christmas songs of your own choice from other videos. This feature is the best!
Create Your Own Christmas Video with Free Video Editor
We have introduced you to a very effective way to celebrate Christmas with incredible greeting ideas like Christmas videos. So, what are you holding out for? Download ShotCut and create your videos, adding music and effects to get creative.
👉🏻 Follow ShotCut Video Editor: Facebook | Instagram | Twitter | Pinterest | YouTube | Website | TikTok