Special Father's Day present: A Beautifully Crafted Video
Need some help with your Father's day present? Why not create a Special Father's Day video with ShotCut's free video editor? Try now!
Need some help with your Father's day present? Read on!
As we feel the gentle summer breeze and the sun graces us with brighter smiles, we know a joyful celebration is coming - Father's Day!
A delightful time to say a loud and proud 'Thank you, Dad' to the gentlemen who serve as our guiding lights. They spent their lives for our future without thinking of their interests means they are our true well-wishers. These heroes we affectionately refer to as Dad, Daddy, Papa, or Father, the stalwarts whose wisdom, strength, and love make us who we are.
How do we present the best Father's Day present to make this day exceptional for these extraordinary men? Sure, there are the age-old Father's Day gift ideas - a tie, socks, or perhaps a new gadget. But we're here to add a pinch of creativity and a dollop of emotion to your Father's Day gifting.
Let's explore the wonderful world of crafting an emotionally-charged Father's Day video tribute to our Dads. This video presentation is designed to elicit laughter, tears, and a sense of profound appreciation. After all, a 'Happy Father's Day' isn't just about tangible gifts and creating and cherishing memories.
So, let's dive headfirst into this exhilarating ride of love and gratitude as we uncover the steps to making the best Father's Day present – a heartwarming Father's Day video.
Ready to create a masterpiece that'll tug at your Dad's heartstrings?
Use the Free video editor to Create a Special Father's Day present.
Now that we're all set with our purpose and excitement, let's venture into the nitty-gritty of creating our Father's Day masterpiece. Step one?
Picking the right tool. Enter ShotCut, is a user-friendly free video editor perfect for our mission. This open-source platform is celebrated for its intuitive design and a wide array of features. From basic cut, copy, and paste to advanced color grading and filters, ShotCut can do it all with finesse.
Wondering about the compatibility? Fret not! Whether you're on mobile or desktop, ShotCut got you covered. It supports a range of formats means you can use almost any video, audio, or image file you have on hand. Its versatility makes it a fantastic choice, whether you're a video editing novice or a pro.
So, let's get on with this unique Father's Day present and take you through the steps to create your tribute video using ShotCut.
Step 1: Gather your Materials
Start by collecting photos, video clips, and any other precious memories of your Dad that you want to include in your Father's Day video. It includes those old memories you have spent with your Father or clips from family events or picnics.
Step 2: Download and Install ShotCut
Visit the ShotCut website, download it, and follow the prompts to install it.
Step 3: Import your Files
Once you have downloaded Shotcut, the next thing to do is Open ShotCut and click 'Create' to import your gathered photos and video clips.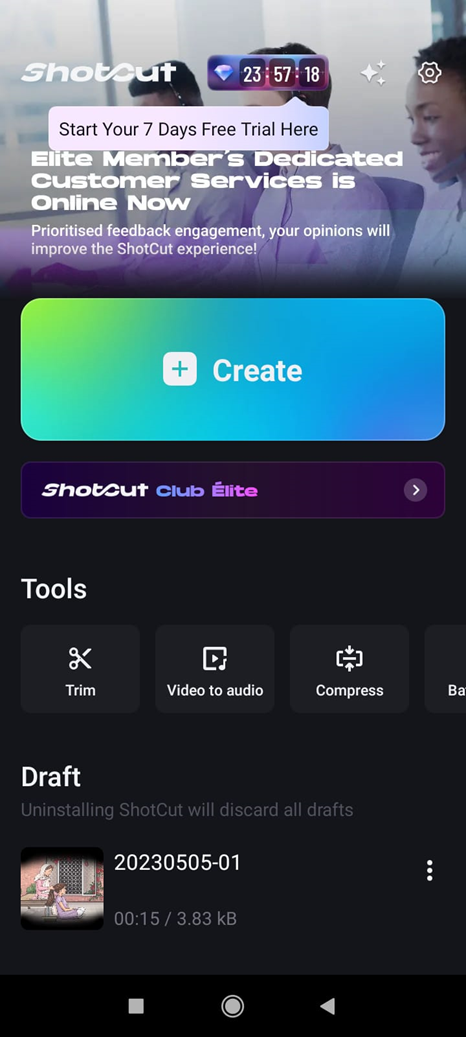 Step 4: Create a Timeline
Drag your files onto the timeline in your preferred order for your Father's Day video. You can add videos or photos. That's totally up to you.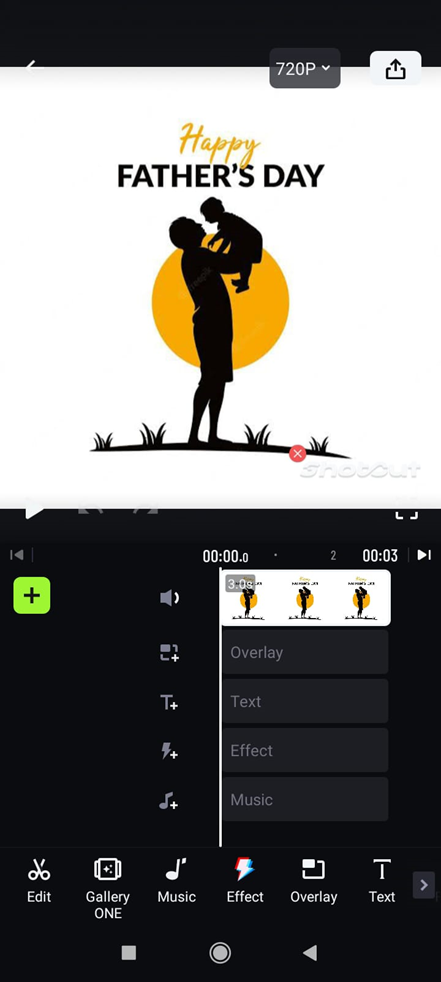 Step 5: Edit and Personalize
Here's where you can let your creativity shine!
Use ShotCut's tools to trim clips, add transitions, insert captions or titles, and incorporate music to breathe life into your tribute.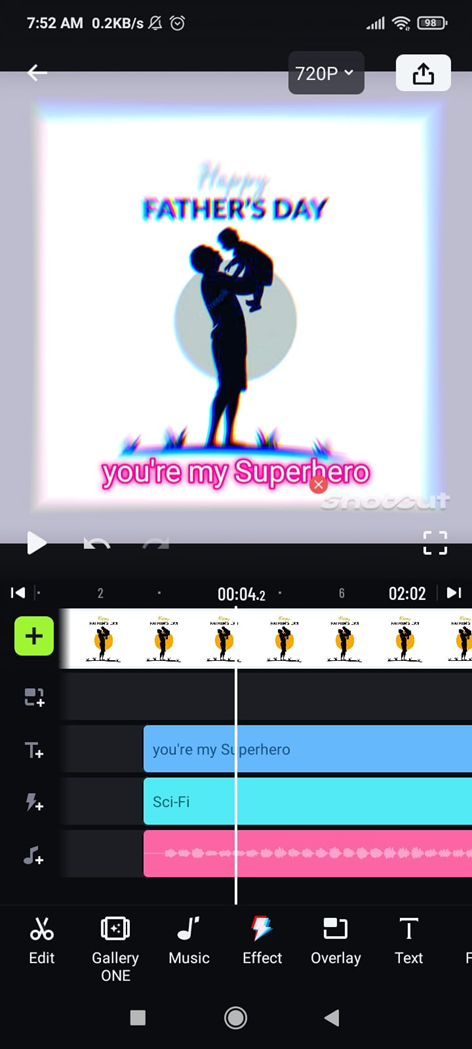 Step 6: Export and Save
Once satisfied with your video, tap on the top right corner, export it in your preferred format, and voila! Your best gift for Father's Day, a heartfelt video tribute, is ready.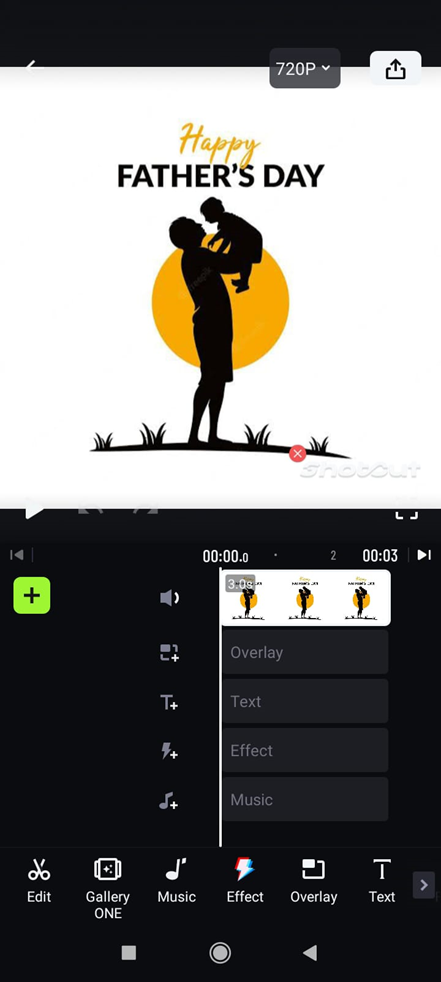 ShotCut also allows you to export your videos to social media platforms.
Creating a Father's Day video with ShotCut isn't just about crafting a present; it's a fun, creative journey. So get into this delightful adventure and create a 'Happy Father's Day' moment that'll be cherished for years!
Tips to uplift your video for a stunning masterpiece
When creating a personal and heartfelt video for your Dad, you can follow these tips to make it meaningful and memorable:
●     Incorporate Treasured Photos: One of the most effective ways to make your video special is to include old photographs. These could be pictures from childhood, holidays, family gatherings, or candid moments of joy. Each photo is a frozen moment in time and can help stir up the beautiful memories associated with it.
●     Include Shared Memories: Remember that fishing trip where you caught your first fish or your Dad taught you how to ride a bicycle? Include clips or photos from memorable events you shared with your Dad. These little stories and shared experiences can add warmth and depth to your video.
●     Personal Messages and Quotes: The right words can add emotional value to your video. Include personal messages or favorite quotes that express how much your Dad means to you. These could be displayed as text overlays on the images or spoken messages included in the video. Your 'Thank you, Dad' message will touch his heart.
●     Include his Favorite Music: If your Dad has a favorite song, band, or type of music, consider adding it to the video's soundtrack. This will not only make the video more enjoyable for him to watch, but it will also make it that much more personal.
●     End with a Heartfelt Wish: Wrap up your Father's Day video with a loving 'Happy Father's Day' message. This could be written or spoken, but make sure it's heartfelt. Your Dad will appreciate your effort and thought in creating this special Father's Day gift.
Creating a heartfelt video isn't about flashy editing or expensive software. It's about the love, appreciation, and memories you share with your Dad. Good luck, and may your Father's Day video be the best gift he receives this year!
Create Special Father's Day video with ShotCut's free video editor.
As we approach the end of this fun-filled guide, let's take a quick stroll down memory lane to recap what we've covered. Father's Day is a precious opportunity for us to say 'Thank you, Dad,' and shower our Fathers with the love and appreciation they deserve.
Creating a Father's Day video isn't just about the final product; it's about the journey, the trip down memory lane, and the hours spent poring over old photos and video clips. It's an adventure of love and nostalgia, ending with a perfect Father's Day gift that's sure to bring a beaming smile to your Dad's face.
As we wrap up, remember that the best Father's Day present comes from the heart.
So why not download ShotCut today, roll up your sleeves, and start crafting your unique Father's Day video tribute? Here's to creating a 'Happy Father's Day' moment that your Dad will treasure forever.
👉🏻 Follow ShotCut Video Editor: Facebook | Instagram | Twitter | Pinterest | YouTube | Website | TikTok