Top 10 Cute Cats on TikTok
Top 10 cute cats on TikTok to cheer you up. Do you want to make your cat a viral TikTok star? Try out ShotCut video editor for Android today!
Who doesn't enjoy watching cute cats on TikTok? TikTok is a never-ending source of entertainment for us, and we can't get enough of it. We keep a close eye out for those furry felines who have a little something extra. We have gathered the 10 cute cats on TikTok for you.
Each species has its own personality and physical characteristics. Some cats are pretty large, while others are relatively small. Some people prefer their privacy, while others are the ultimate snugglers. All cats are adorable, regardless of breed. While every cat is attractive in his or her own right, there are a few that stand out to the general public.
Top 10 Cute Cats on TikTok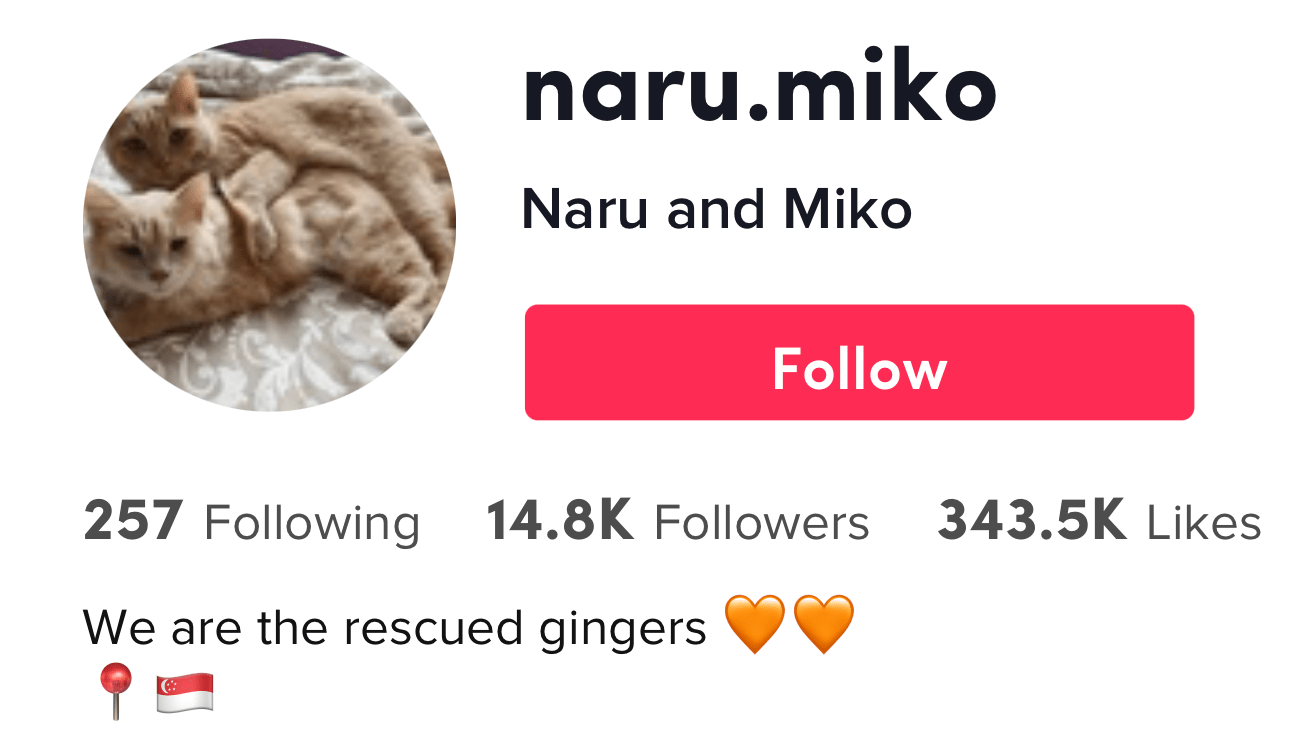 This account is of two cute cats on TikTok. Naru and Miko have rescued gingers who live the perfect life together. While some of their videos only feature one of them, many include both, whether they're giving each other a bath or simply chilling on the floor.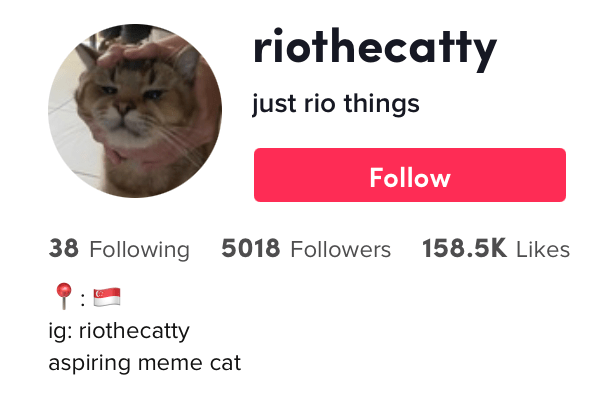 Rio is an actual cute TikTok cat blue Singaporean whose owner labels him 'kpo.' Many of his videos feature him lying on his back or sides, exposing his fluffy stomach to the world. Rio is one of the cutest cats ever, with a round face that we want to pinch.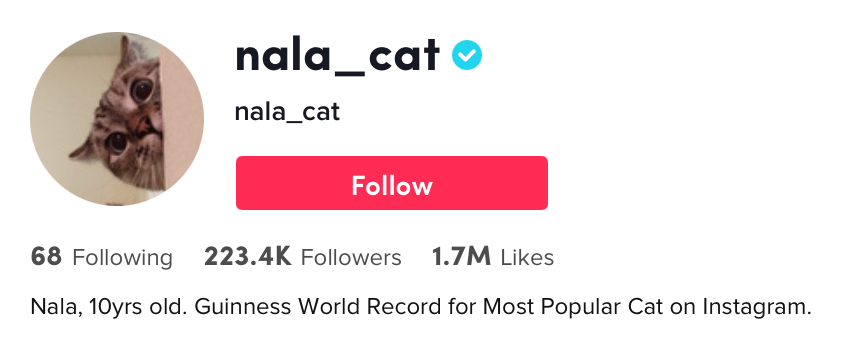 Ala is now a Guinness World Record holder for being the most popular cat on Instagram, and she was named TikToker of the Year in 2019. She also has 225K followers on Instagram! With her piercing blue eyes, Nala always brings cuteness in her TikTok videos, so it's no surprise she has such a large following. She's a perfectly packaged ball of fluff and adorably cute.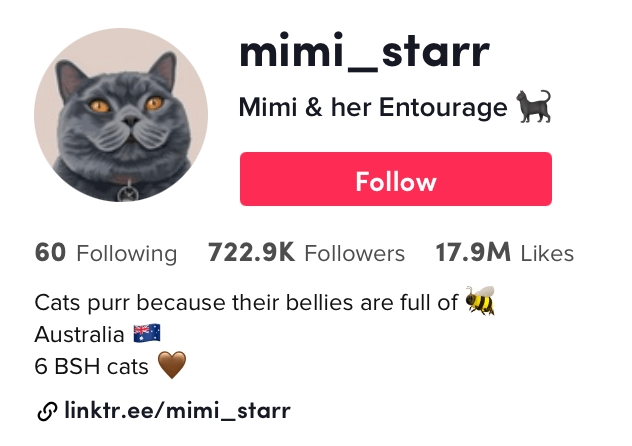 Hannah is an Australian cat mom who adores her feline companions. Hannah shares relatable and humorous skits about life with three cats. She knows how to entertain and show off the cuteness of her furry friends, and they now have 344.2K TikTok followers.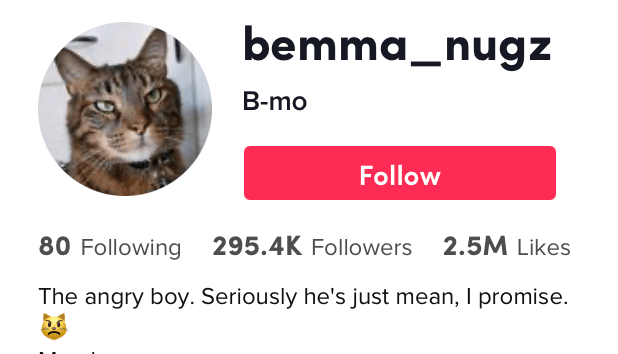 B-Mo captivates his TikTok audience with his mischievous nature and what appears to be a constant angry face. B-Mo has a penchant for biting and a playful side, which is why his videos are so popular and how he's amassed 301.4K followers. Although he appears to be a troublesome cat, you can't deny his cuteness.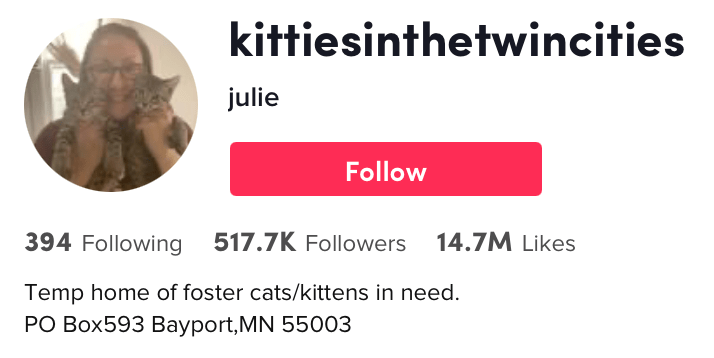 kittiesintwincities is a popular cat with over 505k followers that posts adorable videos of the owner Julie's foster cats! The videos show the cats playing, relaxing, and going about their daily lives. Overall, Julie does an excellent job of creating unique cat content that you will enjoy!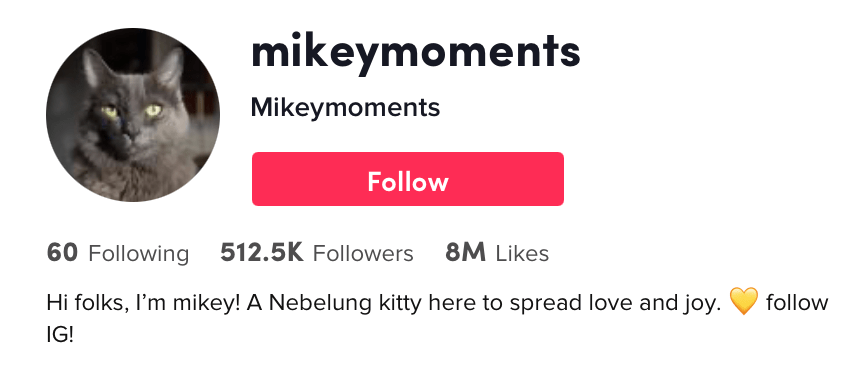 Mikey is a beautiful grey cat with sparkling green eyes and an excellent communicator! Mikey's most popular video is hilarious; he communicates with his mother that he is up to no good. You can hear him meow "nothing" if you listen carefully. Some cats have everything!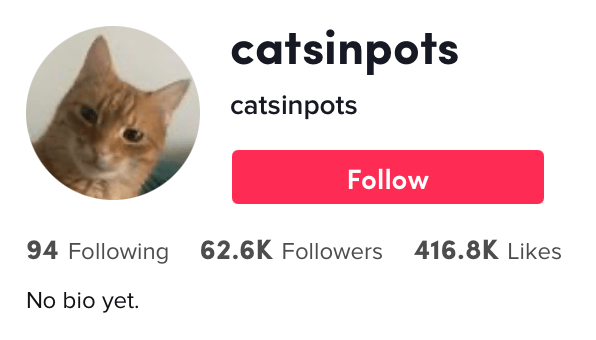 This account depicts the owners discovering their pets in the most unexpected places. The feel-good version has everything from playing catch with paw-rent to listening to Disney music. These cute cats on TikTok are certainly curious.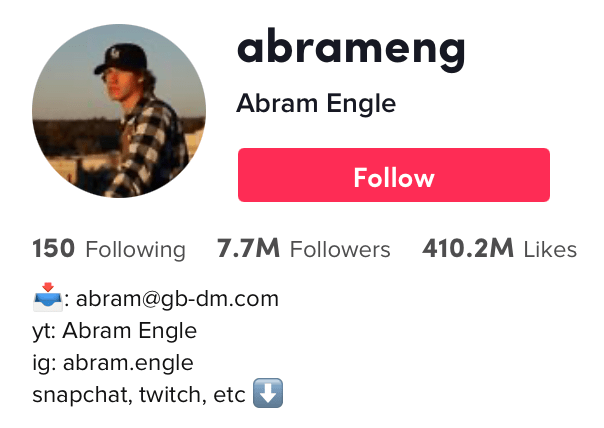 There are numerous dance challenges on TikTok, but have you seen Kurt the cat show off his moves? Kurt has 6.3 million followers and stays on trend while making each dance routine his own with his paw-rent. They are an incredibly entertaining pair! This four-legged dancer was clearly made for the stage.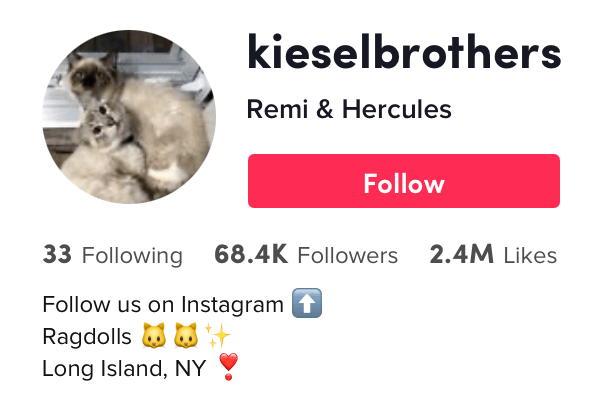 These two adorable brothers have a 70K following, and their videos focus on their day-to-day lives as super cute cats on TikTok. They are mischievous masters, and their lively demeanor keeps pet owners on their toes. If you want to know what it's like to have a cat, Remi and Hercules are happy to oblige with their hilarious videos.
Download ShotCut Free TikTok Video Editor on Android Now!
Love cute cats on TikTok? Do you also want to make your cat a TikTok star? Then all you need is the best video editor. You can make your TikTok videos with ShotCut - a fantastic video editor for editing TikTok videos.
ShotCut is an easy-to-use video editor and video maker with trendy video effects. This music video maker has professional features: trim video, cut video, fast & slow motion, edit video with photos and music, video transitions, add effects to video, extract music from video and save video without watermark!
👉🏻 Follow ShotCut Video Editor: Facebook | Instagram | Twitter | Pinterest | YouTube | Website | TikTok