Celebrate Happy Friendship Day with Free Video Editor
Friendship is a unique event that is dedicated to friends. Celebrate Happy Friendship Day with ShotCut free video editor now.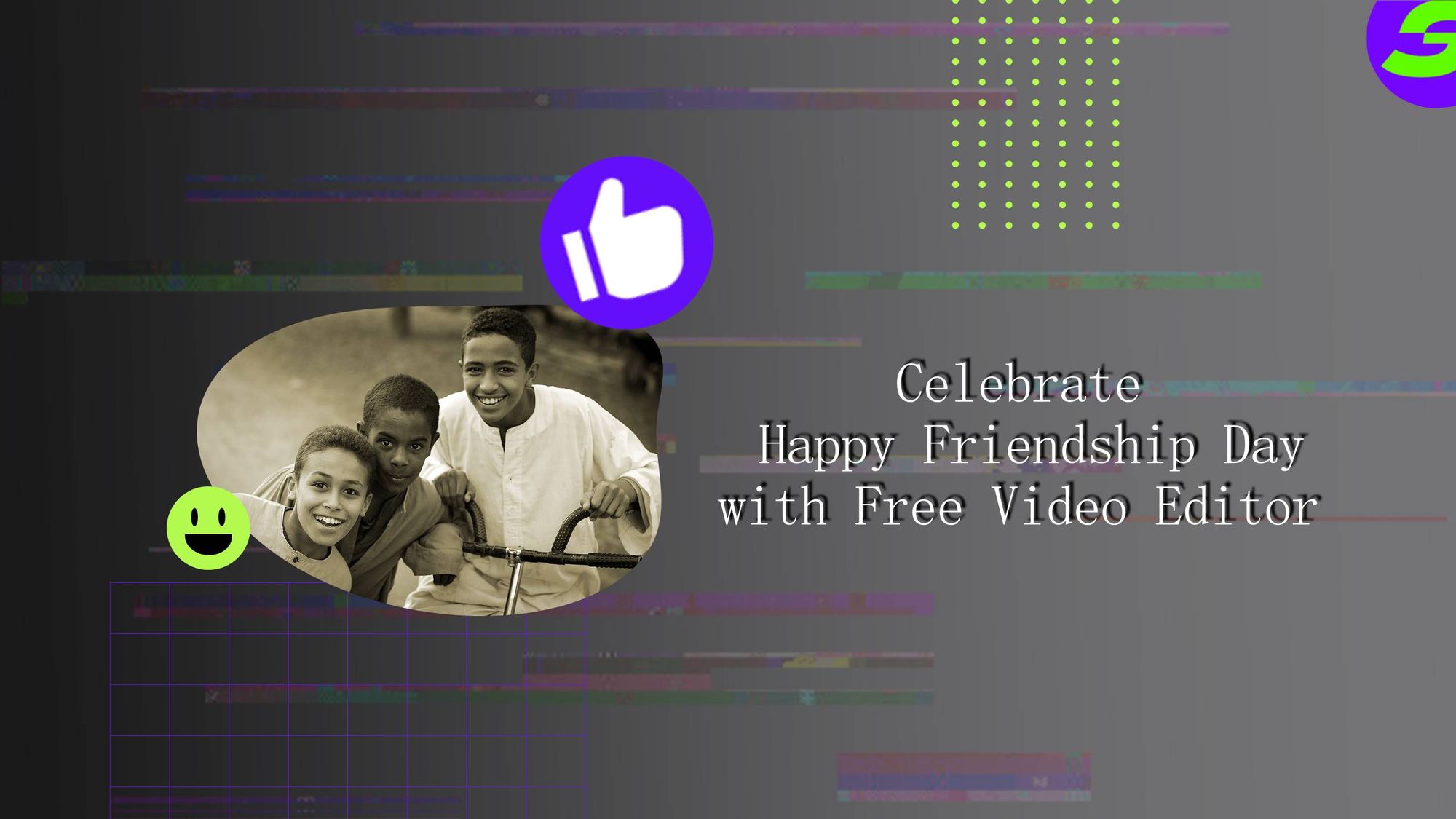 Friendship Day is a unique event that is dedicated to friends. This occasion has a beautiful essence in which we cherish our bond with our friends. Happy Friendship Day holds great significance in people's hearts because it reminds them to show their love, gratitude, and support to their friends.
Many people love to give it to their friends. But what could be a better gift than a video showing memories of your friendship? Happy Friendship Day videos allow us to capture and share precious moments, memories, and emotions to celebrate friendships. These videos allow us to express our gratitude to our friends openly.
Wishing Your Friends Happy Friendship Day with a Heart Warming Video
With the help of videos, you can easily convey your emotion, relive shared experiences, and demonstrate the breadth of your connection with friends by creating and sharing videos.
Preparing for your video:
Choose a theme: before making a video, you need to choose a theme. The theme is the essence of the video, it can be customized, or you can simply choose a template. If your friend is a gym enthusiast, choose a theme that reflects the gym pieces of equipment. If your friend is a dancer, then choose the dancing theme. Your friends love colours, so they choose a colourful theme.
Gather Your Footage: Now it's time to gather all your footage and put it individually in a video. You can also add videos too bt short format. Try to gather footage from various sources like Instagram, social media, Facebook, etc.
Editing Your Happy Friendship Day Video with ShotCut Free Video Editor
ShotCut is a free-to-use video editor for Android user that help you create outstanding videos in just a matter of minutes. Unlike other video editing apps, ShotCut provides fantastic editing tools that help you create professionally edited videos for free. You can easily create your Happy Friendship Day videos.
ShotCut provides various editing tools like cut, cop, and trim layout features that help you edit your videos professionally. It also provides various editing features that help enhance your videos, like animation, transition, effects, and much more. On this fantastic occasion of Happy Friendship Day, you can easily gift a best-edited video to your friends.
Here is the step-by-step guide to creating Happy Friendship Day videos with the help of ShotCut:
1- Upload the video or photo:
First, download the ShotCut video editor from the Google Store. Open the app and tap on Create a Project. Your gallery will pop up. Select the videos and pictures of your friends you want to use in your Happy Friendship Day video.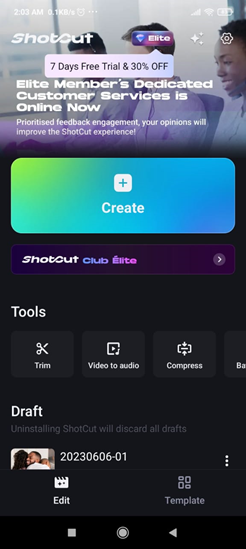 2- Arrange the photos and videos:
Now arrange all the videos and photos correctly in the way you want. If you want to edit some videos, you can use the following tools in ShotCut to help you cut and edit your videos.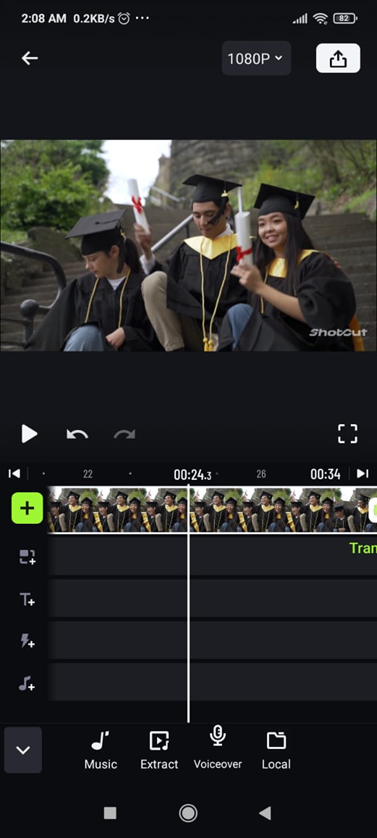 ●       Video cropper: video cropper can help you Crop videos to any aspect ratio for an optimized display.
●       Video cutter & splitter: you can easily cut and split more extensive videos into clips with this tool's help.
●       Video merger & combiner: Merge multiple video clips into one cohesive video.
●       Video trimmer: this tool in the ShotCut video editor can help you trim and remove unwanted sections from your Happy Friendship Day videos
●       Video background remover: with the help of this feature, you can remove video backgrounds without needing a green screen.
3- Add text to your video:
Tap the add text option, and write down the text you want to add. You can add friendship quotes, add a message to your friend and express your love. You can write a note and express your love for your friend. Or you can add things you are always grateful about your friend. You can add your blessings for your friend in the video. You can decorate the text with colour, styles, effects, and more options. To move the text, just simply hold and drag it.
Shotcut gives a fantastic option of transition, effects, and animation options. You can use these features to enhance your text and make it stand out.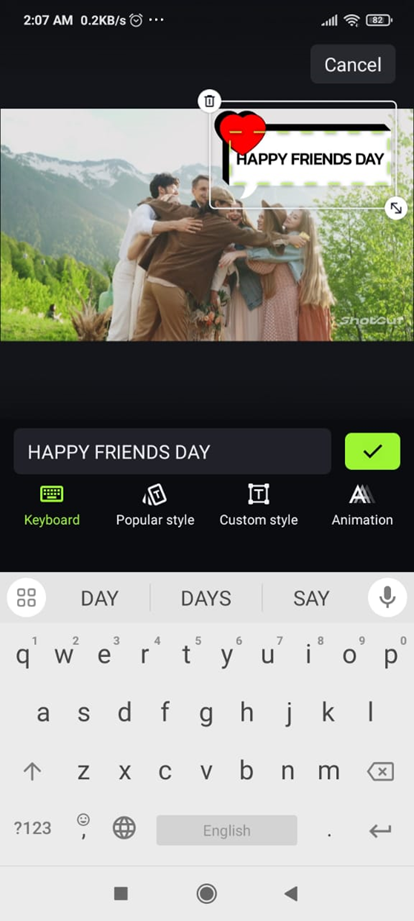 3- Enhance your video:
Explore the ShotCut video editor's fantastic editing features and filters. Add your desired filter and effect to the video you want to use. Here is the list of some notable features that ShotCut provides:
●       Blur video: with this feature, you can add blur or mosaic effects to videos for added emphasis or privacy.
●       PIP (Picture in Picture): this is a fantastic feature by the ShotCut video editor to overlay videos for a professional and engaging look.
●       Video effects & filters: various effects and filters available on ShotCut will help you enhance your Happy Friendship Day video in different forms.
●       Video stabilizer: This feature can help you remove the camera shake from captured videos for smoother playback.
●       Video reverser: this feature can help reverse or rewind videos to create unique effects.
4- Add music to your video:
Tap the add music option, choose, and search for the desired music. You can search for the Happy Friendship Day song. Choose music that perfectly compliments your friendship day video. Another way you can add music is by extracting the song from another video. You can also add a voice-over of you singing a song for your friend. That could also be a great way to show your love.

5- Save and export the video:
Once you finish the video editing of Happy Friendship Day, simply choose the video size and export it to friends directly.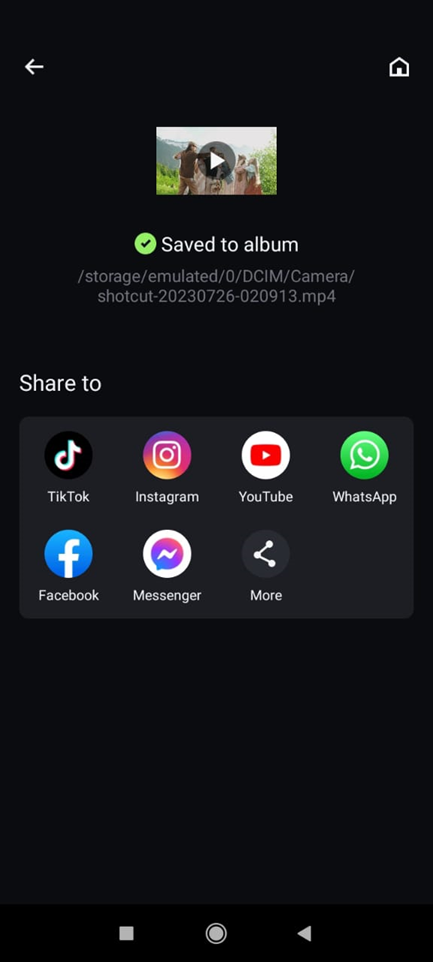 Make Your Happy Friendship Day Video With ShotCut Free Video Editing App
Creating heartwarming Friends Day videos is extremely valuable because it strengthens your friendship. They strengthen the emotional bond between friends by expressing genuine emotions and gratitude. These videos become heirlooms, preserving precious memories and experiences shared with our friends.
To make your videos stand out, you can use ShotCut to begin making your heartwarming Happy Friendship Day videos. This video editing software is simple to use and provides various tools and features to help you improve the quality and creativity of your videos.
👉🏻 Follow ShotCut Video Editor: Facebook | Instagram | Twitter | Pinterest | YouTube | Website | TikTok