How to Add Video Effects for Free using ShotCut Video Editor
Effects matters - but how to add video effects? Start addind video effects for free using ShotCut Video Editor now.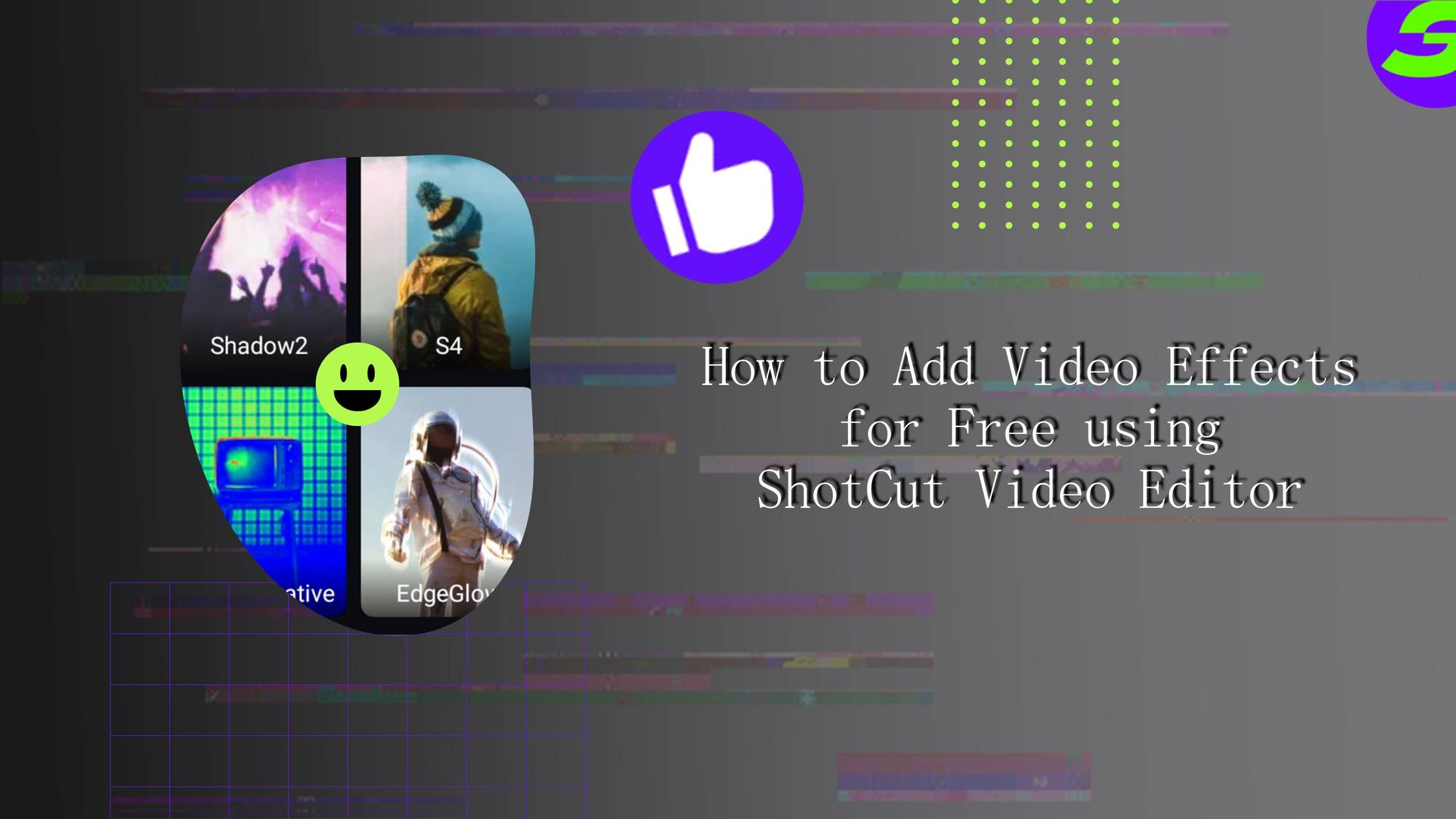 Effects Matters - but how to add video effects? Could you Imagine a life where video effects didn't exist? A world where movies, advertisements, and even your favourite YouTube videos are as bland as a blank canvas. Obviously, Big No!
Now think of the stunning visuals in movies enriched with effects and transitions. These aren't just entertainments; they transform ordinary scenes into extraordinary spectacles, capturing and engaging the viewer's attention.
Understand with an example.
Remember the last viral video you watched? With just a touch of effects, it became a sensational hit, turning an everyday performer into a global sensation. Well, what made it viral? All with the magic of video effects!
The next question would be how you can inject effects into videos. You are not a pro video editor, plus you are not on a Hollywood budget.
Let's find out how to add video effects and elevate your work without spending a penny. Mark the name "ShotCut".
Start Using ShotCut as Your Video Effects Companion
So what's ShotCut? In simple words, it's a free video editor that brings your artistic visions to life.
ShotCut free video editor for Android has many features to discuss but will uncover the most exciting effects. You can add flair, drama, elegance, or whatever your project requires. From colour correction to transitions, from text overlays to filters, ShotCut houses it.
The user-friendly interface will let you feel like you are stepping into your home. Its layout provides easy access to all the tools required for video effects (including green screen effect!).
You don't need to be a seasoned editor to apply those effects. ShotCut free video editing app allows you to focus on the art rather than the mechanics. Want to make your video pulse to the beat of the music? Or add a cinematic fade to an aesthetic scene?
With ShotCut's functionalities, these impressive results are just a few clicks away.
How to Add Video Effects for Free using ShotCut Video Editor
Let's start with filters, transitions, and animated text to create impressive video edits.
Adding Video Effects
Foremost, you must upload your media/video to ShotCut. Once uploaded, tap on the "Effects" icon in the features timeline (As shown in the screenshot).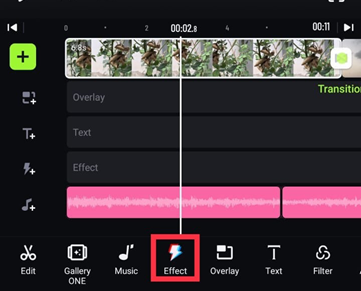 When you access this feature, it opens up a comprehensive list of effects. These effects are thoughtfully categorized according to their type and function, making it easy for users to find what they need.
In the Love section, you'll find effects featuring hearts and romantic visuals, while the Party section offers charming light effects and festive illuminations.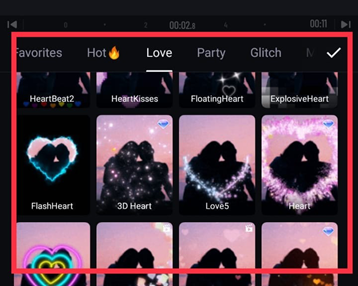 You can easily mark your favourite effects, adding them to the favourites section for quick access in the future.
This way, the tools you love are always just a click away, making your editing process more efficient and personalized.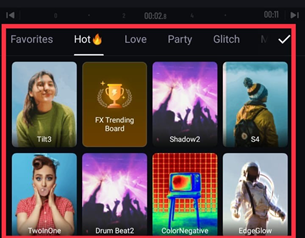 When you select the desired effect, tap on that, and the effect will be added to your video. Now you can fine-tune the application of effects within your video by manipulating the effect timeline.
Expanding or reducing this timeline allows you to control the duration and specific sections of the video where the effect will be applied.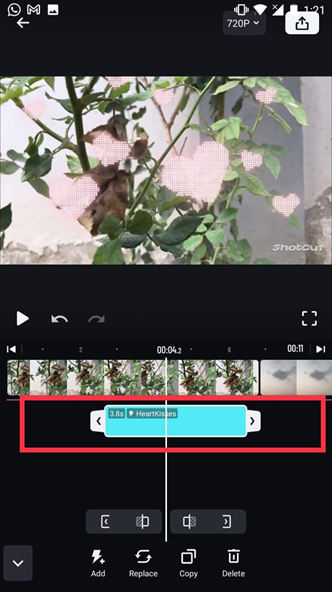 This feature allows you to emphasize certain parts of the video with a particular effect or to create a gradual build-up or fade-out. In this way, you can add effects to highlight certain video moments.
Adding Sound Effects
You may hear of video effects, but did you know your audio can be edited with the same precision and creativity? ShotCut doesn't just limit you to visual enhancements; it also opens up a whole new realm of audio manipulation.
You can trim your audio, incorporate beats, and more, allowing for precise control and customization of your sound.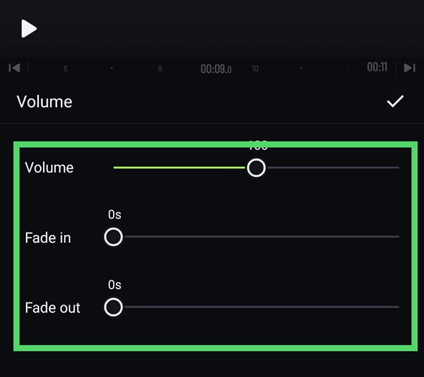 Further, you can adjust the volume level, increasing or decreasing it to suit your needs. Fading audio in or out adds another layer of refinement, allowing for smoother transitions and a more polished final product.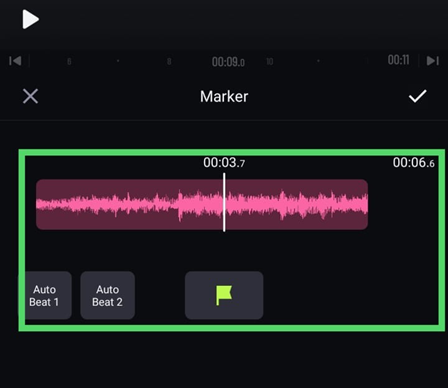 Apply and Edit Filters
As a content creator, the importance of filters is undeniable. Filters can transform ordinary footage into visually appealing content, add style, create mood, and help convey your creative vision.
Recognizing this essential aspect of video editing, ShotCut offers an extensive collection of filters to explore and apply.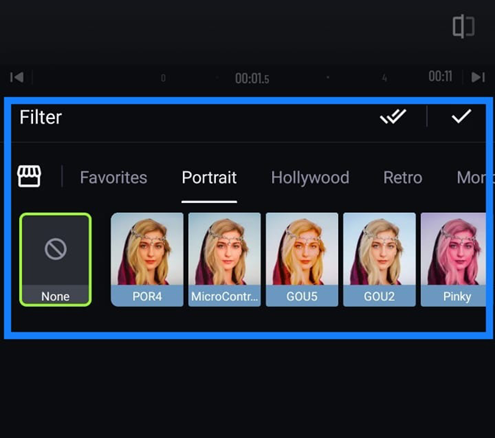 But ShotCut's capabilities extend beyond offering a wide array of filters; it also allows you to adjust them.
You have control over essential parameters like brightness, contrast, vibrancy, and other nuanced settings that can significantly impact the final appearance of your video.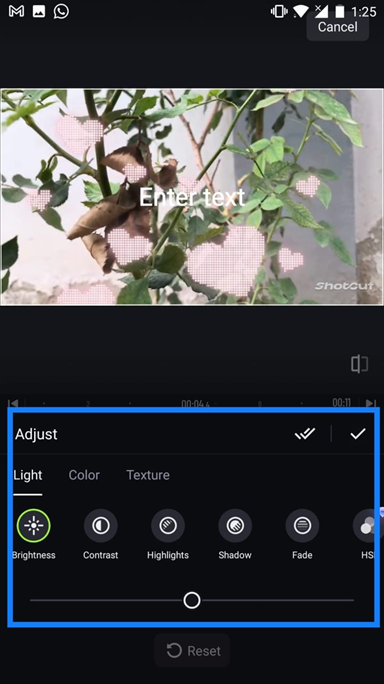 Add Transitions & Animated words effects
Last, ShotCut provides a selection of in, out, and combo transitions to smooth out your videos, adding a polished touch to the viewing experience. These transitions aren't merely functional; they add a dynamic flow that can enhance storytelling and maintain viewer engagement.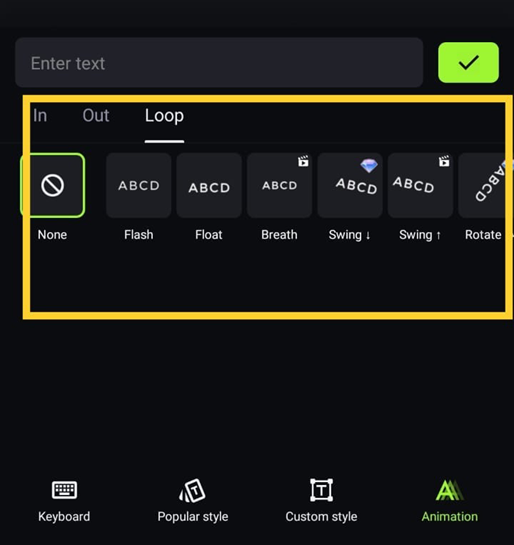 But that's not all. While plain text might suffice for some projects, adding animated text effects can elevate your videos to the next level.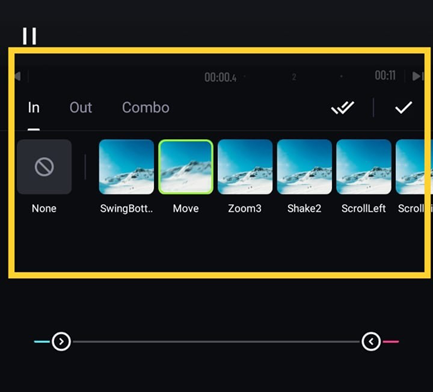 You can create eye-catching titles, emphasize key points, or add a creative flair that resonates with your audience.
Start Adding Fun Video Effects to Amp Up Your Video.
Your digital content requires creativity, innovation, and the right tools to stand out. And now you know how to add video effects efficiently! ShotCut offers a gateway to all these essentials without costing a dime.
It empowers both novice and expert creators to bring their visions to life. Don't let technical barriers or budget constraints limit your creativity. Download ShotCut today, where the only limit is your imagination.
Transform your videos, captivate your audience, and unleash the filmmaker within you, all with the assistance of ShotCut!
👉🏻 Follow ShotCut Video Editor: Facebook | Instagram | Twitter | Pinterest | YouTube | Website | TikTok