Turn your videos into Anime Effects Using This Free Android video editor.
Experience the magic of anime effects in your videos. It's time to transform ordinary clips into captivating tales. Explore now!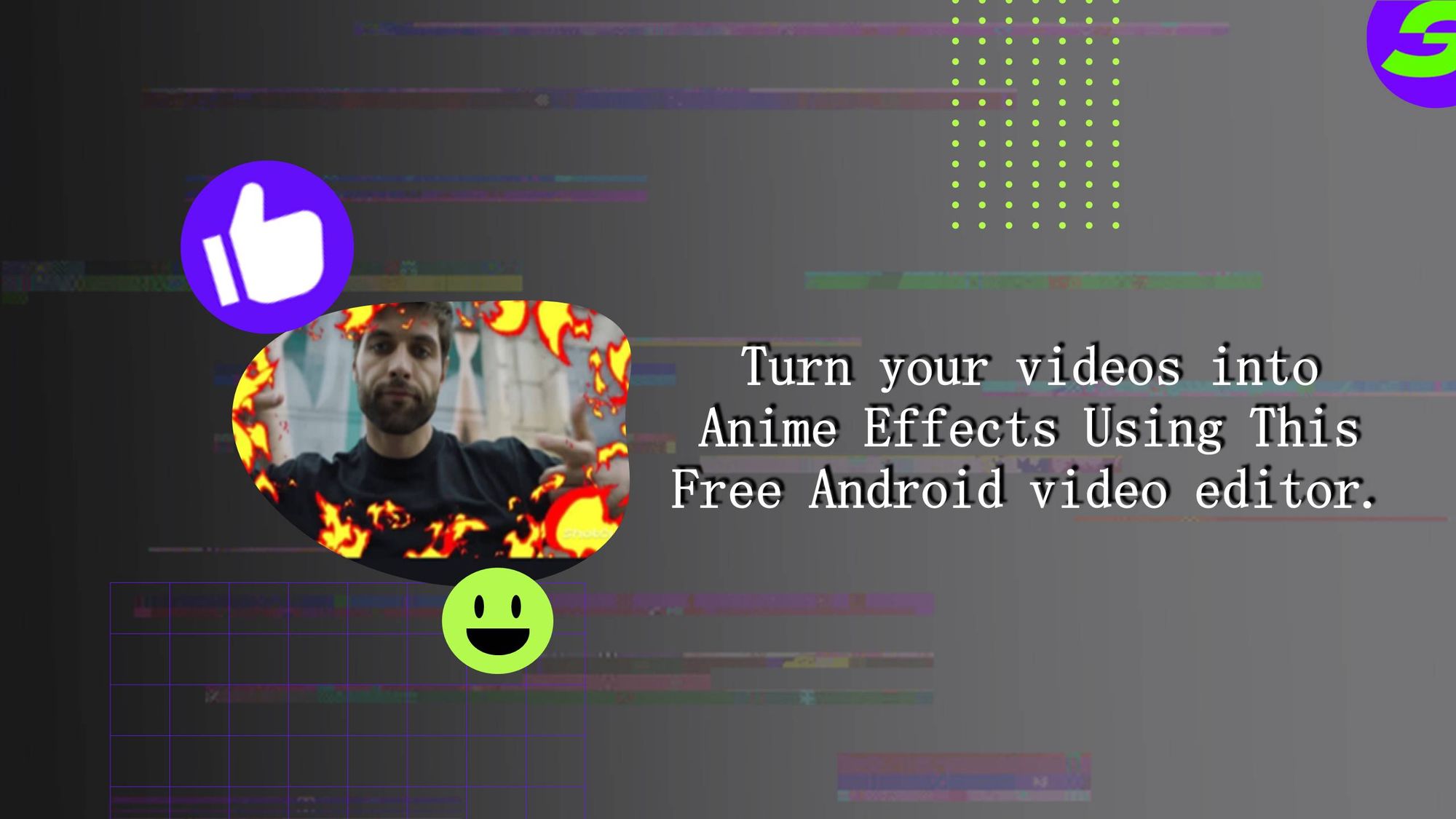 Turn ordinary moments into extraordinary ones using anime effects in the magic of a few taps.
It's your loved one's birthday party. The joyous laughter, the candles glowing, the cake waiting to be cut. That's quite normal. Now, reimagine the same scene with a twist: As your loved one blows out the candles, sakura petals float around, giving the moment an anime-like magical glow. That heartfelt hug from her mom? The soft luminescence of a neon skyline now frames it.
Anime effects portray a visual symphony. They turn simple raindrops into radiant light and infuse videos with blossoming backdrops, elevating narratives and showcasing creative brilliance. They catch viewers' attention as they are watching something exciting. It's about giving your stories a dimension that defines your creativity level.
It's time to get hands-on! This article will cover every inch you need to know about anime effects, from the free video editor to the step-by-step tutorial!
Introducing ShotCut's Anime Effect Tools: Unlock Your Creativity

Enter the gateway to turn everyday videos into anime-inspired masterpieces. This free tool is powerful and user-friendly, making it easy for beginners to navigate.
Its standout feature? A collection of specialized anime effect tools. These tools allow you to add that dreamy glow, floating cherry blossoms, or vibrant hues characteristic of your favourite anime scenes with just a few clicks.
The real beauty of ShotCut's Anime Effect Tools lies in its empowerment. You don't have to spend hours, or even days, trying to perfect an effect but in minutes. 😀

Step-by-Step Guide: Turning Videos into Anime-Like Creations with ShotCut
Follow this simple guide to transform your content into stunning anime-inspired creations.
Step 1: Add Media in the Editing Timeline
Start by launching ShotCut and importing your desired video clip. Tap on Create and select your media. It'll add it to the editing timeline. This serves as your canvas for all the edits and effects you'll be applying.
Step 2: Tap on Effects and Explore
Once your video is on the timeline, look for the 'Effects' tab in the editing timeline at the bottom.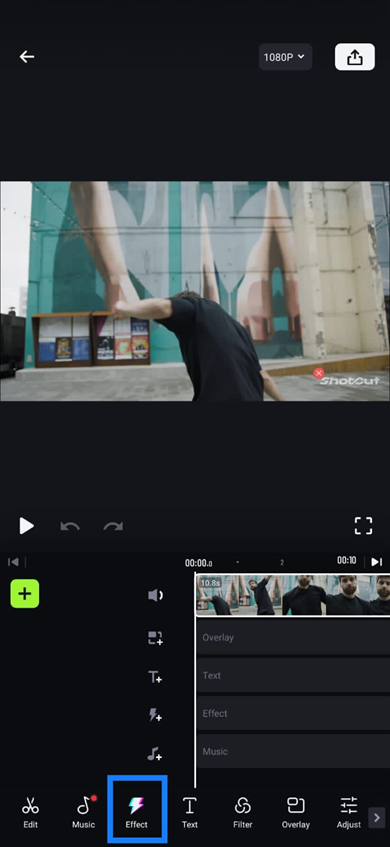 This is where the magic happens. Tapping on it will reveal many editing tools, including the much-anticipated anime effects.
Step 3: Add Anime Effects
The heart of our transformation lies in these anime effects. ShotCut boasts a variety of such effects, each designed to provide a distinct anime-like feel.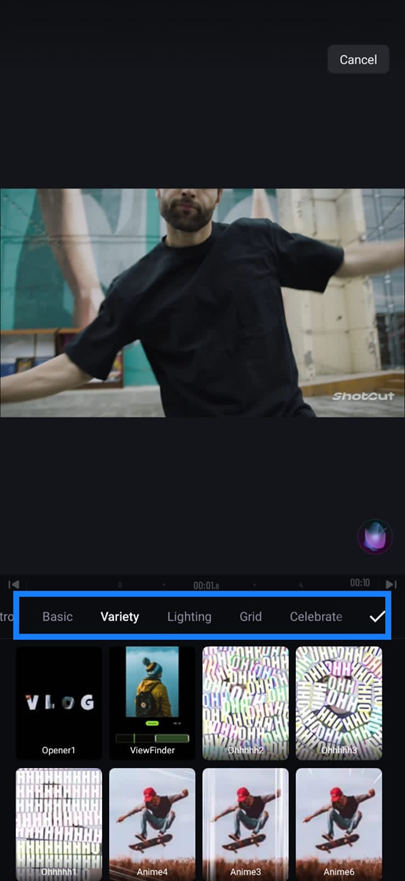 You can see Anime1, anime2, anime3, these are the titles of effects. It is recommended to preview each effect by tapping on it. Once it looks fine and smooth, then apply it to your clip.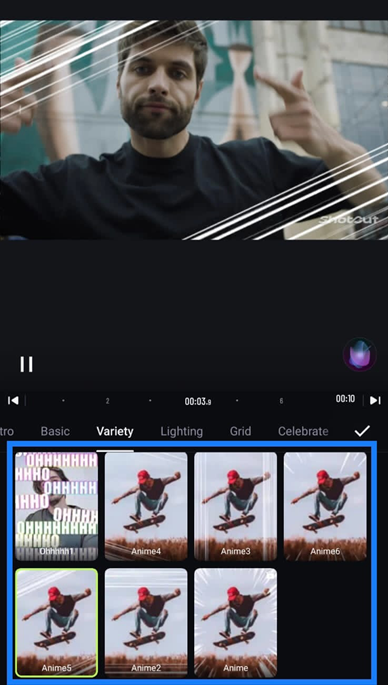 ShotCut has a huge library of such effects as glamour effects, giving your video a dreamy aura. For YouTube video intro & outro, you may explore the Youtuber category. You can use the Stardust effect to convert a bland night scene into a mesmerizing night sky sprinkled with stars.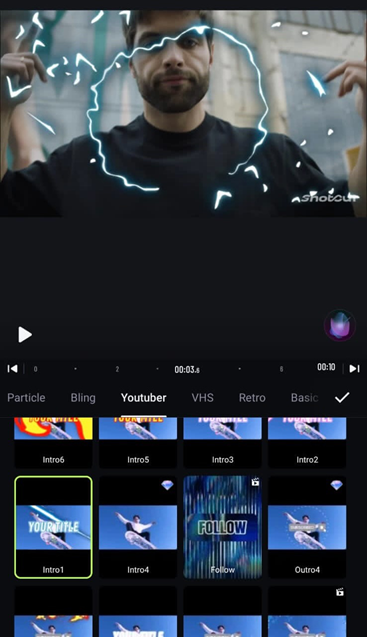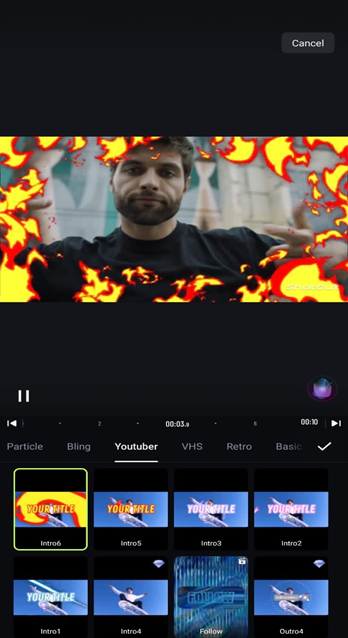 However, while applying these effects, remember to consider the mood and tone of your video. Not every effect might suit every scene, so experiment and preview until you find the perfect match.
Step 4: Give a Final Touch
After infusing your video with anime magic, it's time to fine-tune and polish.
With ShotCut's Video Cropper, you can optimize your video's display by tailoring it to your preferred aspect ratio, making it perfect for platforms from Instagram to YouTube. If you have multiple clips, the Video Merger & Combiner lets you seamlessly stitch them together for a fluid narrative.

Music, as we know, can elevate the emotional resonance of any visual. Use the Add Music to Video feature to layer your visuals with an evocative soundtrack, voice-overs, or sound effects. To mask specific details, the Blur Video tool can be an artistic asset. Lastly, don't forget to explore Filters. Beyond anime, these can drastically shift your video's mood, transforming it from vintage nostalgia to cinematic grandeur.
Its Multiformat Timeline seamlessly merges clips from HD to 4K to 360°. The intricate dance of storytelling isn't limited to the eye; it speaks to the ears, and with ShotCut's enhanced Audio Features, every sound finds its rhythm and depth.
Colours tell stories; with ShotCut's Color Grading Tools, you hold the pen, painting each frame with emotion or vibrancy.
Transform videos into Anime Effects with ShotCut free video editor
Here, you have explored a free video editor that is much more than its price tag suggests. It's the bridge between your creative visions and the world of anime aesthetics.
With ShotCut, every user gets the power to paint their stories in the rich tapestry of anime.
But why ShotCut? Beyond its anime effects, this tool offers other features, ensuring every edit, every transition, and every effect is a step towards perfection.
Let your videos soak in the essence of anime, and let every frame be a masterpiece. The journey from ordinary to extraordinary is but a download away. Dig down your creativity, and let ShotCut guide this animated world. Don't just make videos; craft stories that linger, tales that touch, and visuals that vibrate with life.
👉🏻 Follow ShotCut Video Editor: Facebook | Instagram | Twitter | Pinterest | YouTube | Website | TikTok