How to Trim a Video in 5 Steps with Free Video Editor
Learning how to trim a video is essential for editors and creators. Trim your video effortlessly with ShotCut's free video editor today.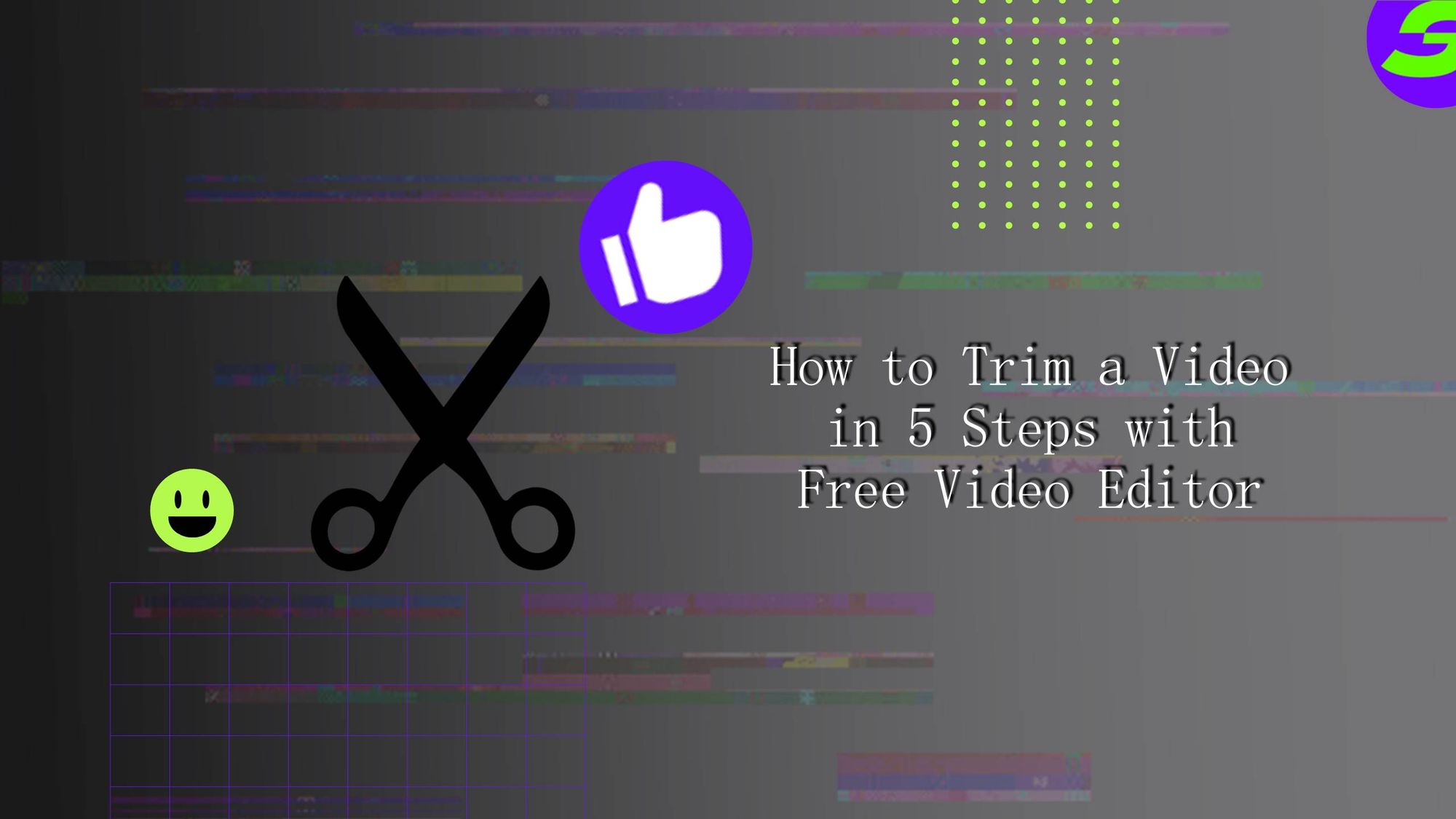 Learning how to trim a video is essential for editors and creators. Video trimming plays a crucial role in enhancing the quality of videos by removing unnecessary segments and improving overall flow. By learning how to trim a video, content creators can ensure that their message is delivered effectively and captivates the audience's attention. In today's fast-paced world, viewers have limited attention spans, and lengthy videos with irrelevant content can quickly lose interest. Knowing how to trim a video allows creators to identify and remove sections that do not contribute to the main message, resulting in a more streamlined and focused video. Furthermore, trimming improves the video's flow by eliminating awkward pauses, hesitations, or repetitive content.
This seamless flow maintains the viewer's engagement and prevents distractions that could otherwise lead to disinterest or abandonment of the video. Creating concise and engaging content is paramount in today's digital landscape, where competition for viewers' attention is fierce. A well-trimmed video holds the viewer's interest and communicates the intended message efficiently. By condensing content without sacrificing its essence, creators can deliver information more effectively and leave a lasting impact on the audience. The importance of video editing increases as the popularity of video production increases. There are numerous advantages of using free video editors for trimming videos, such as cost-effectiveness and a large user base, which must be addressed even when professional video editing software offers full options.
Introducing ShotCut: Your Video Trimming Solution
Now that we've discussed how learning how to trim a video can benefit editors, some of its advantages and why it's needed. Another essential thing to know is what software can be used to trim video and on what different devices/platforms they can be used on. One free software you could use to edit your videos is ShotCut Video editor. This video cutter is a cost-free video editing app on Android, enabling you to craft, modify, and export videos seamlessly using your mobile device. What makes ShotCut the best video editor for Android is the experience it gives its users and the interface at its forefront, bringing you a quality and smooth video editing experience from the start till the end.
ShotCut, free video editing app, grants you access to an extensive array of design and editing tools, providing you with diverse choices. These include cropping, applying text styles, integrating overlays, and refining photo trimming. A wide range of more than 100 video effects are available in the software, which may improve the quality of your videos. The user-friendly interface of the ShotCut video editor makes it simple to edit videos. With this Free video editor, the advantage of having an intuitive user interface that appeals to a wide range of users is a highlight feature. A video trimmer like ShotCut uses an easy-to-use interface accessible to folks with little or no technical knowledge. This video editing is so simple to use. Let's take a look at it!
Step-by-Step Guide: How to Trim a video in 5 steps with ShotCut
1. Go to the Google Play Store and download ShotCut.
Once the download is complete, you can open the app and click on the "Create" button.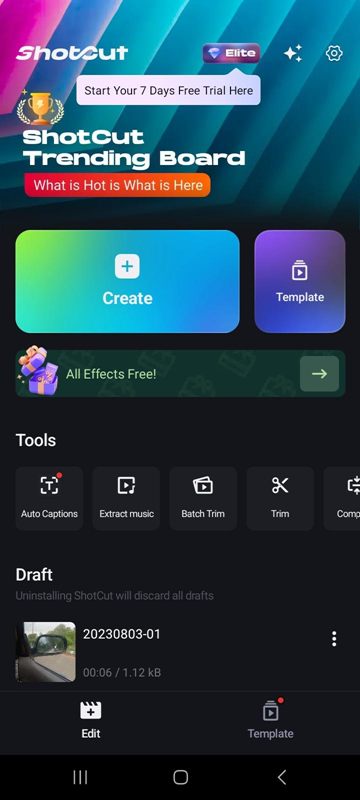 2. You are then taken to your gallery, where you can choose all the photos, video clips etc, that you to include in your video. Upload the clips you need.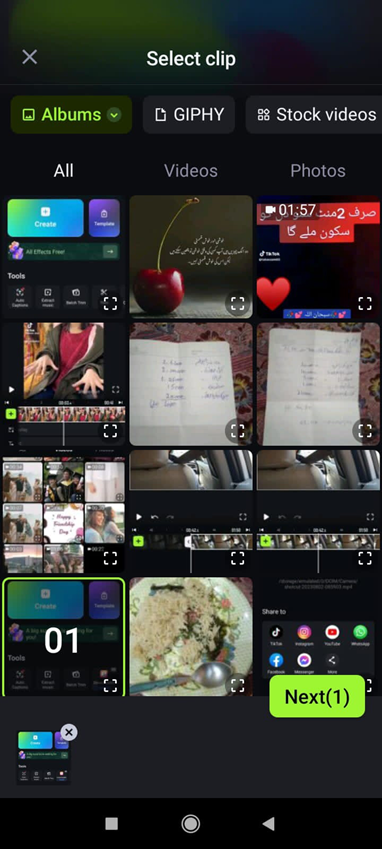 3. Tap on the "Edit "option and swipe left to find the "Trim" option. You can trim your video to your liking by dragging the video to where you want to cut.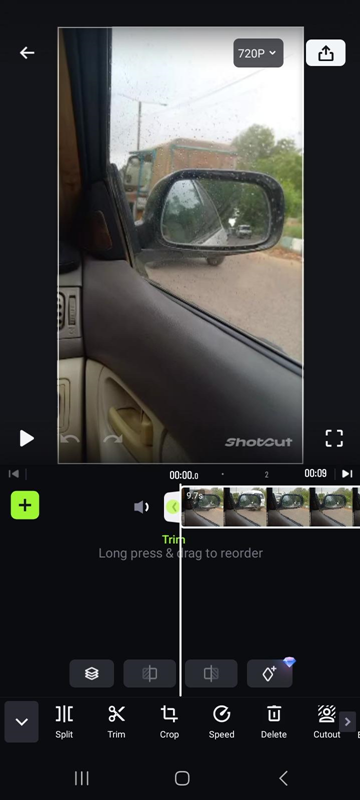 4. Tap the button with the arrow pointing upwards from a box to save your video. You can choose which resolution you want your video to be viewed in.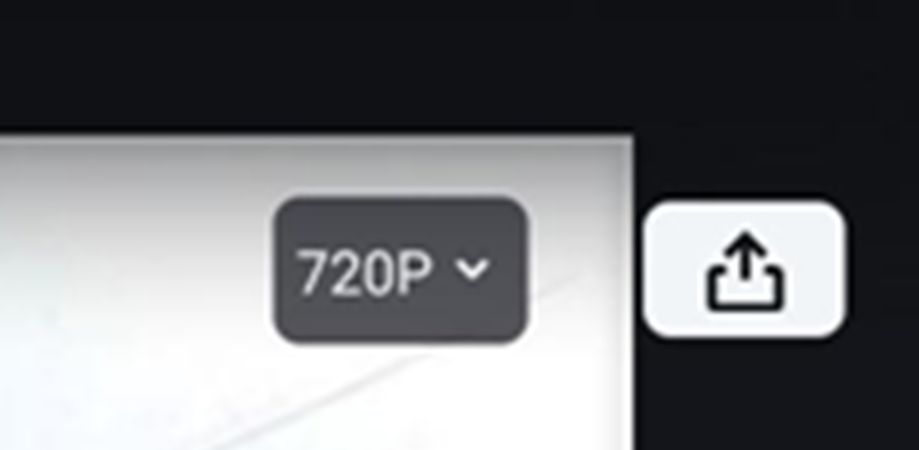 5. After you have saved your video, you can share it to all your social media platforms to show your audience your video editing skills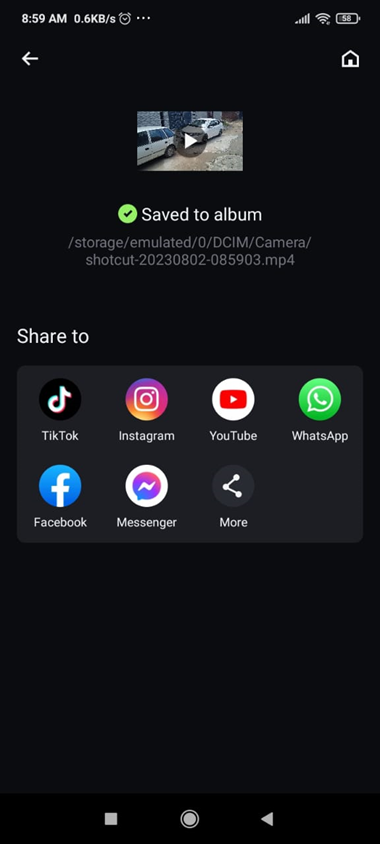 Level up Your Video Creations: ShotCut's Additional Video Editing Features
• Add Music to the Video: Create a fascinating aural experience by effortlessly incorporating Music, voice-overs, and sound effects into your videos. It is the key to enhancing the impact of your material.
• Blur Video: You may apply blur or mosaic effects to your films, combining creativity and accuracy. Whether it's a focal point, maintaining privacy, or incorporating an aesthetic flare that distinguishes your material, direct your viewer's attention precisely where you want.
. • Video Effects & Filters: With the help of various effects and filters, go beyond the ordinary and give your films individuality. These improvements take your work to a new level of visual enchantment, whether through subtle colour grading or a recollection of old aesthetics.
• Video Background Remover: Easily remove video backdrops without needing a green screen to rewrite the possibilities of post-production editing. With this capability, you may arrange subjects in various environments or contexts with unsurpassed simplicity.
Trim Your Video with ShotCut's Free Video Editor Today.
As the digital realm continues to evolve, mastering the art of video editing will remain an essential skill for creators aiming to captivate and retain their audience's attention. Remember that free video editors like ShotCut are the key to releasing your creative potential as you begin your path of content production.
They level the playing field so that content producers from all backgrounds may make engaging work that connects with worldwide viewers. ShotCut is your partner in realizing your vision, so it doesn't matter if you're a seasoned pro or just getting started. You have access to the whole universe of video editing. By downloading ShotCut right away, you may expand the scope of your storytelling abilities. Today, learn how to trim a video with ShotCut's free video editor and see how your works take on their own life.
👉🏻 Follow ShotCut Video Editor: Facebook | Instagram | Twitter | Pinterest | YouTube | Website | TikTok